Scientific Paper Written About Our Cultured Pearls – Peninsular News
A scientific paper about cultured pearls grown in Woy Woy has appeared in the international journal, Gems and Gemology. Researchers from Macquarie University and Johannes Gutenberg University in Germany have written about their findings a paper entitled "Akoya Cultured Pearl Farming in Eastern Australia".
The researchers visited and documented the pearl-seeding and -harvesting procedures in Woy Woy and sampled pearls of various colours, shapes and sizes. They said the Akoya cultured pearls from Woy Woy are special because they occur in a wide variety of natural colours that range from classic white and silver over more unconventional colours like yellow, orange, pink and blue. The Akoya cultured pearls industry goes back to the early 1900s when Kokichi Mikimoto produced the first fully round Akoya cultured pearls in Japan.
The pearl-oysters needed to produce these pearls are also native to the local shoreline and have produced fine quality pearls since around 1999. "It is a unique opportunity, for us to be able to observe this richness in colour range," said Macquarie University PhD student Ms Laura Otter. "The pearls from Broken Bay are marketed without the use of any bleaches or dyes as is common practice elsewhere," she said. The pearls are allowed to grow for 18 months before they are harvested, which is above average for most Akoya farms.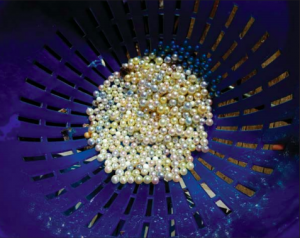 A growing number of Australian retailers have embraced the Brisbane Water pearls and use them to create locally manufactured jewellery. The aim of the study was to characterise this new source of Akoya pearls with their unusual colour palette to see and understand how these pearls differ from other pearls. In the future, these findings will help to discriminate between different origins of Akoya pearl production and the discrimination from other types of cultured pearls. This information is essential for example for gem-testing laboratories, which need to determine the authenticity, origin, and possible application of treatments for their customers.
Results of the study point towards successful discrimination of colourful Australian Akoya pearls from other pearl types while naturally white pearls remain difficult to identify. The research is expected to take at least another year to complete. SOURCE: Media release, 6 Feb 2018 Emma Casey, Macquarie University